Michelle Moir - Caring Canine Massage & Acupressure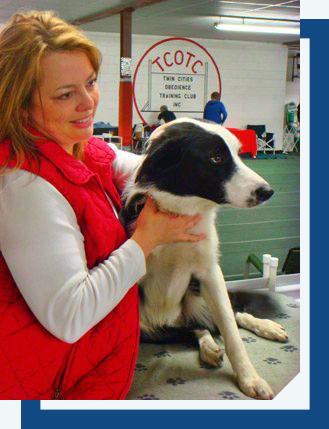 The love for dogs I have started at a very young age with companion animals that were part of my family growing up. My passion for dogs came with my first dog as an adult. Together we discovered the fun of dog parks, long walks, dog agility, obedience, fly ball and herding. Over the next several years, three more dogs became family. As my love of dogs grew, so did my interest in health care, nutrition and training. Over the last fifteen years, I have attended and participated in numerous educational workshops and seminars. Interest in canine massage came easily when one of my own dogs was in need. Impressed and convinced of the power of regular bodywork, I attained Supreme Motion's Canine Sports Massage Certification in March 2006. Canine Sports Massage certification was 300 hours of intense class room training with the majority of time spent working "hands on" with dogs. The curriculum included anatomy, physiology, nutrition, gait analysis, conformation evaluation, massage techniques, biomechanics of performance dogs, post injury healing, acupressure and Bach Flower Essences. Since my certification, I have also become a student of life enhancing essential oils; adding to my ability to assist in personal care for your canines every day life. My canine massage business has grown since its start in March 2006. Currently, my clients include canine athletes, post surgical dogs, arthritic dogs and a few couch potatoes. Many of my weekends are spent at canine sporting events providing pre and post massage to canine athletes.
My approach to massage is one of more natural principles; looking at the dog as a whole. My goal is not only to provide all the benefits of massage, but to teach you, the owner, how to be proactive with your dogs health care.
Just a few words from some of our very happy customers...
"Whisk can't wait to jump on Michelle's table at the end of a day of agility competition. She takes out all the knots and soreness. And it makes me feel good to know I'm doing something so good for my dog and team mate!"

"Michelle has worked on my own dog with massage, and I have referred client's pets for her services with excellent resolution of medical issues. I believe Michelle offers a valuable service to our canine friends."

"I trust Michelle to evaluate my dogs before we run at an agility trial, help them get loosened up, and stay loose all day long, until the end of the day work to make sure they are in top competitive form."
Just a few words from some of our very happy customers...
"Whisk can't wait to jump on Michelle's table at the end of a day of agility competition. She takes out all the knots and soreness. And it makes me feel good to know I'm doing something so good for my dog and team mate!"

"Michelle has worked on my own dog with massage, and I have referred client's pets for her services with excellent resolution of medical issues. I believe Michelle offers a valuable service to our canine friends."

"I trust Michelle to evaluate my dogs before we run at an agility trial, help them get loosened up, and stay loose all day long, until the end of the day work to make sure they are in top competitive form."